Public Speaking and Beyond
A huge part of my mission is to help people break free from stage-fright, to find their voices in the world, and to become authentic, powerful speakers, whether on a stage in front of hundreds, or in simply making a presentation in a meeting. I lead or co-lead the following group processes:
Speaking Circles ®, a unique approach to public speaking, consists of a powerful centering process that has proven to have an extremely powerful impact on all areas of life, both personal and professional. It is based on a humanistic approach to overcoming the fear of public speaking. I am a certified Speaking Circles ®, facilitator.
Speaking Circles can help you:
Increase confidence, and decrease fears around speaking and presenting
Reduce anxiety in front of a group
Become a more effective speaker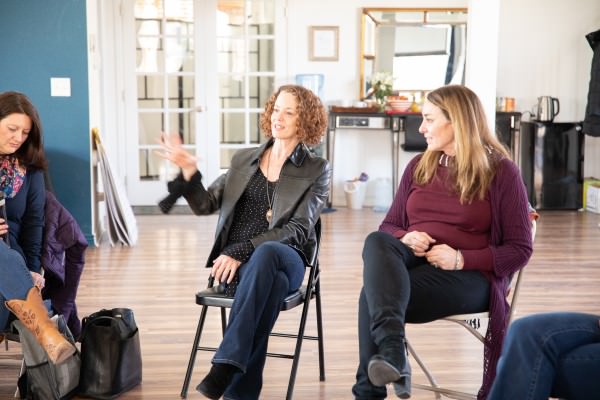 Soul Speaks can help you:
Learn how to be present and speak from a deep place of truth
Express yourself more fully and authentically
Connect to others is a more genuine and powerful way
Soul Speaks™ uses the same powerful process, but takes it a step further. Not only does it increase your confidence with public speaking, it also provides a tangible tool for speaking powerfully and authentically in any area of your life, and enhances the ability to speak and live your truth every day. It is a deceptively simple practice, with transformative results.
For more information on all of our Soul Speaks offerings and events, go to our website: www.SoulSpeaks.biz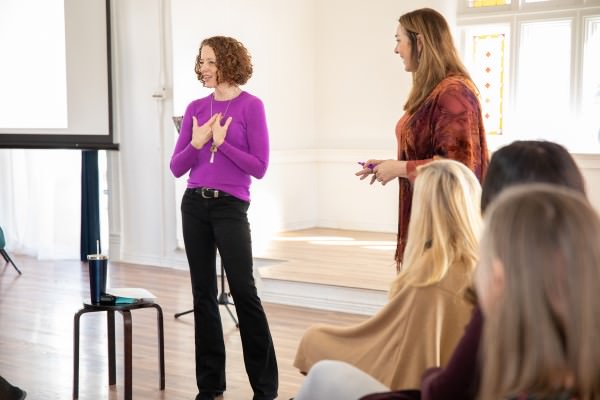 "I listen better, and I am less afraid to say things honestly and openly."
"Soul Speaks has boosted my confidence and helped me be and act from a more intuitive place."
"Soul Speaks is like improv; you get up in front of the room and it's all up to you. It's telling a story, but instead of telling a story, YOU are the story. It's not just what's on your mind, it's deeper than that. It allows you to express who you are. To speak openly and honestly without feeling intimidated. Once you have that comfort in expressing your thoughts, ideas, feelings, you can then exude confidence and strength. Your words become more powerful, allowing you to realize your potential, and that ANYTHING is possible."
"[Soul Speaks] increased my ability to speak in front of people; but it has also helped me to develop my listening skills, to stay focused, and to become a better communicator, which has helped me in my career to be a better manager and leader."
"Soul Speaks is a unique and transforming experience. There is a wellspring of potential available to each participant in terms of gaining insight and awareness. Personally, I became more and more comfortable being seen for who I am in this safe and positive environment. Truly a place to expand the consciousness!"
"The circle is like church; you come in with a hole in your heart and the circle mends it."
"I knew this experience would be deep and meaningful when I registered. Little did I know how brilliant, powerful, and transforming, talking from my extemporaneous soul would be. Paula and Lizanne are stellar leaders in the deepest sense of what one needs for support, structure, and holding a sacred space to go deep; keeping it real, bright, heavy, dark, delicious! Here there is space for all of the hues of my humanness. I am forever changed and oh so ennobled."
"I now have confidence in my ability to pause and wait during speaking rather than just pushing through and filling the silence."
"Soul Speaks is like dessert for the soul. This gathering connects me to my essence when I'm too caught up in the details of life to do that for myself."
"Soul Speaks has enabled me to speak in front of people; to organize my thoughts more easily when under stress without being nervous."
"Don't worry about what the world needs. Ask what makes you come alive and do that, because what the world needs is people who have come alive." – Howard Thurman